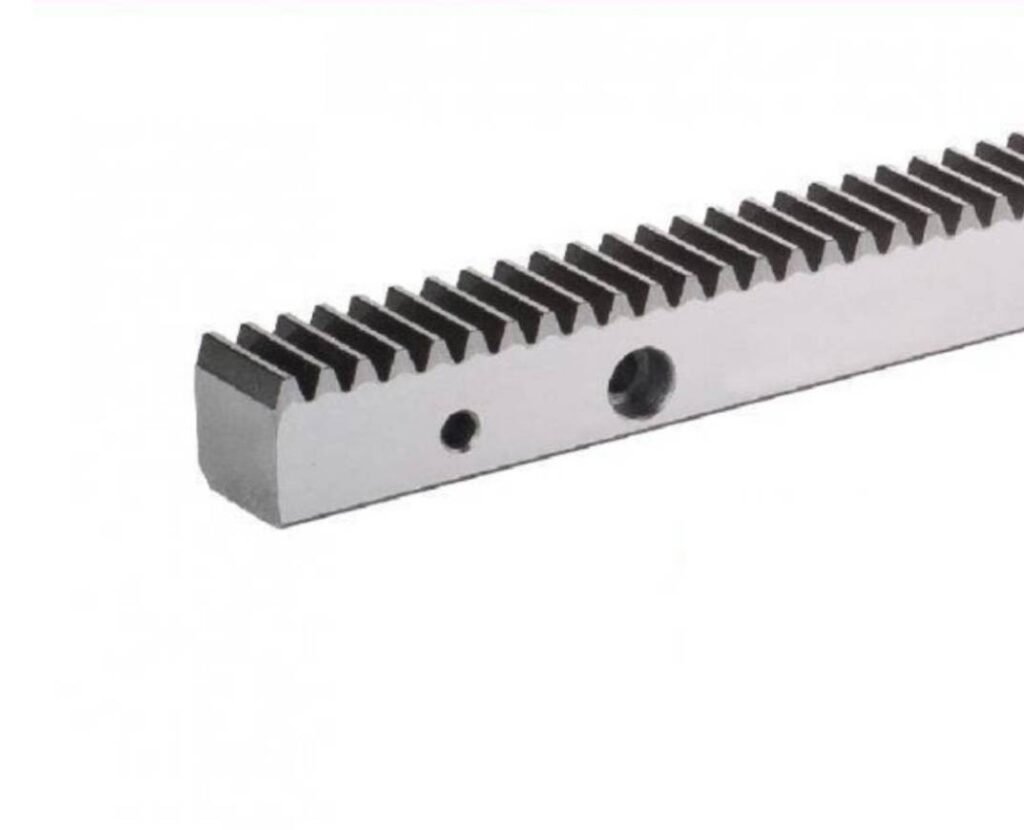 At Kreymayer, we take pride in delivering top-notch drive solutions that cater to a diverse range of industries. Our Straight Teeth Ground Racks are a testament to our commitment to excellence.
Key Features:
Precision Engineering: Our Straight Teeth Ground Racks are meticulously engineered to ensure precise and smooth motion transmission. With a focus on maintaining strict tolerances, we guarantee that your applications will experience minimal backlash and optimal performance.

High-Quality Materials: Crafted from the finest materials, our ground racks offer exceptional wear resistance and longevity. This ensures that your systems operate flawlessly even under demanding conditions, minimizing maintenance needs and downtime.

Versatility: Whether you're in automotive manufacturing, robotics, aerospace, or any other industry that requires accurate linear motion, our Straight Teeth Ground Racks can be seamlessly integrated into your systems to enhance overall performance.

Customization Options: We understand that every application has unique requirements. That's why we offer a range of customization options, including size, pitch, length, and more. Our team of experts is ready to collaborate with you to create a tailor-made solution that perfectly fits your needs.

Reliability: Kreymayer has a long-standing reputation for producing reliable and durable drive systems. With our Straight Teeth Ground Racks, you can trust that your operations will run smoothly day in and day out, minimizing downtime and maximizing productivity.

Expertise: Backed by decades of experience, Kreymayer is a leader in the drive systems industry. Our team of engineers and technicians is dedicated to ensuring that our products meet the highest standards of quality and performance.
RACK
PINIONS
RACK AND PINIONS
ENGINEERING INSPECTION SERVICES
GUIDEWAY RACKS
DRIVE SYSTEMS
RACK
Kreymayer is Authorized Manufacturer, Supplier and Exporter of High Quality Racks Including Gear Racks, Helical Racks, Helical Teeth Ground Racks, Helical Hardened Racks, Helical Milled Quenched & Tempered Racks, Straight Hardened Rack, Straight Milled Quenched & Tempered Ground Racks and Straight Teeth Ground Racks in Agra, Ahmedabad, Ahmednagar, Ajmer, Amravati, Amritsar, Aurangabad, Bangalore, Beed, Belgaum, Bharuch, Bhavnagar, Bhopal, Bhubaneswar, Calicut, Chandigarh, Chandrapur, Chennai, Coimbatore, Cuttack, Daman, Delhi, Dhule, Ernakulam, Erode, Gangtok, Ghaziabad, Goa, Hubli, Hyderabad, Indore, Jaipur, Jalgaon, Jamshedpur, Jodhpur, Kolhapur, Kolkata, Lucknow, Ludhiana, Madurai, Mumbai, Mysore, Nagpur, Nashik, Navi Mumbai, Noida, Patna, Pondicherry, Pune, Raipur, Rajkot, Salem, Satara, Secunderabad, Shimla, Sikkim, Silvassa, Solapur, Srinagar, Surat, Thane, Udaipur, Vadodara, Valsad, Vellore, Vijayawada, Visakhapatnam
PINIONS
RACK AND PINIONS
ENGINEERING INSPECTION SERVICES
GUIDEWAY RACKS
DRIVE SYSTEMS