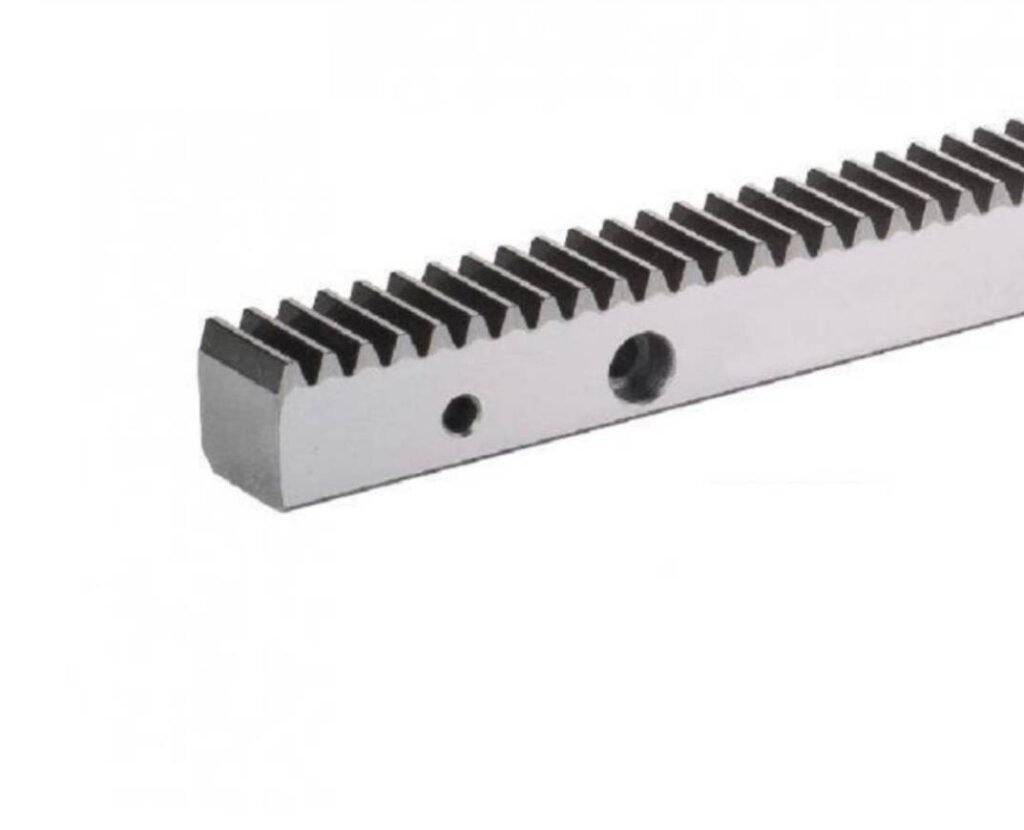 At Kreymayer, we take pride in being a leading manufacturer of top-notch drive systems that cater to a diverse array of industries. Our commitment to excellence and innovation has solidified our reputation as a trusted provider of high-quality products.
Our Straight Milled Quenched & Tempered Ground Racks are meticulously engineered to provide superior performance, accuracy, and durability. Crafted to precision, these racks are the backbone of numerous applications across various industries. Whether you're in the automotive, aerospace, robotics, or manufacturing sector, our racks deliver the reliable performance you need.
Key Features:
Precision Engineering: Each rack is meticulously milled to exacting specifications, ensuring tight tolerances and impeccable accuracy.

Quenched & Tempered: Our racks undergo a specialized quenching and tempering process, enhancing their hardness and strength, resulting in extended product lifespan.

Ground Surface: The ground surface finish guarantees smooth and quiet operation, reducing friction and wear, while maintaining consistent engagement.

Wide Range of Sizes: We offer a comprehensive selection of rack sizes to accommodate diverse application requirements.

Compatibility: Designed to seamlessly integrate with various drive systems, our racks ensure optimal performance and compatibility.
RACK
PINIONS
RACK AND PINIONS
ENGINEERING INSPECTION SERVICES
GUIDEWAY RACKS
DRIVE SYSTEMS
RACK
Kreymayer is Authorized Manufacturer, Supplier and Exporter of High Quality Racks Including Gear Racks, Helical Racks, Helical Teeth Ground Racks, Helical Hardened Racks, Helical Milled Quenched & Tempered Racks, Straight Hardened Rack, Straight Milled Quenched & Tempered Ground Racks and Straight Teeth Ground Racks in Agra, Ahmedabad, Ahmednagar, Ajmer, Amravati, Amritsar, Aurangabad, Bangalore, Beed, Belgaum, Bharuch, Bhavnagar, Bhopal, Bhubaneswar, Calicut, Chandigarh, Chandrapur, Chennai, Coimbatore, Cuttack, Daman, Delhi, Dhule, Ernakulam, Erode, Gangtok, Ghaziabad, Goa, Hubli, Hyderabad, Indore, Jaipur, Jalgaon, Jamshedpur, Jodhpur, Kolhapur, Kolkata, Lucknow, Ludhiana, Madurai, Mumbai, Mysore, Nagpur, Nashik, Navi Mumbai, Noida, Patna, Pondicherry, Pune, Raipur, Rajkot, Salem, Satara, Secunderabad, Shimla, Sikkim, Silvassa, Solapur, Srinagar, Surat, Thane, Udaipur, Vadodara, Valsad, Vellore, Vijayawada, Visakhapatnam
PINIONS
RACK AND PINIONS
ENGINEERING INSPECTION SERVICES
GUIDEWAY RACKS
DRIVE SYSTEMS