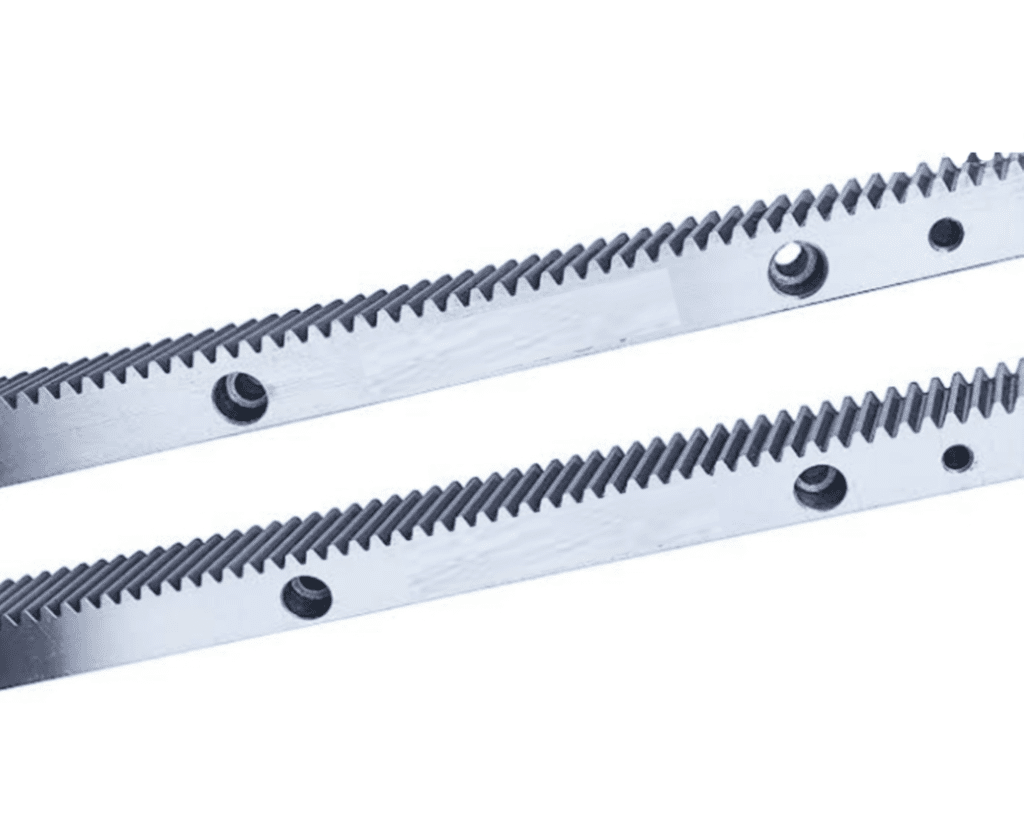 Designed to deliver unparalleled performance, our Helical Racks are engineered to perfection, ensuring a smooth and efficient power transmission in various applications. Whether you're in the automotive, aerospace, manufacturing, or any other industry that demands precision and reliability, our Helical Racks are the ideal solution.
Key Features:
Precision Manufacturing: Each Helical Rack is meticulously crafted using state-of-the-art manufacturing processes. This guarantees consistent quality, dimensional accuracy, and a flawless meshing interface with accompanying gears and pinions.
Enhanced Durability: Our Helical Racks are built to withstand the most demanding conditions. With a focus on material selection and advanced hardening techniques, our racks offer exceptional durability and longevity.
Smooth Operation: The unique helical tooth design of our racks ensures a smooth and quiet operation, reducing noise and vibration while enhancing overall system performance.
Customization Options: We understand that every application is unique. That's why we offer a range of customization options, including different sizes, materials, and finishes. Our team of experts is ready to work closely with you to deliver a tailored solution that perfectly fits your requirements.
Applications Across Industries: From precision CNC machines to robotics, from automotive assembly lines to aerospace testing equipment, our Helical Racks find their application in a wide array of industries. Wherever there's a need for precision drive systems, Kreymayer's Helical Racks rise to the occasion.
RACK
PINIONS
RACK AND PINIONS
ENGINEERING INSPECTION SERVICES
GUIDEWAY RACKS
DRIVE SYSTEMS
RACK
Kreymayer is Authorized Manufacturer, Supplier and Exporter of High Quality Racks Including Gear Racks, Helical Racks, Helical Teeth Ground Racks, Helical Hardened Racks, Helical Milled Quenched & Tempered Racks, Straight Hardened Rack, Straight Milled Quenched & Tempered Ground Racks and Straight Teeth Ground Racks in Agra, Ahmedabad, Ahmednagar, Ajmer, Amravati, Amritsar, Aurangabad, Bangalore, Beed, Belgaum, Bharuch, Bhavnagar, Bhopal, Bhubaneswar, Calicut, Chandigarh, Chandrapur, Chennai, Coimbatore, Cuttack, Daman, Delhi, Dhule, Ernakulam, Erode, Gangtok, Ghaziabad, Goa, Hubli, Hyderabad, Indore, Jaipur, Jalgaon, Jamshedpur, Jodhpur, Kolhapur, Kolkata, Lucknow, Ludhiana, Madurai, Mumbai, Mysore, Nagpur, Nashik, Navi Mumbai, Noida, Patna, Pondicherry, Pune, Raipur, Rajkot, Salem, Satara, Secunderabad, Shimla, Sikkim, Silvassa, Solapur, Srinagar, Surat, Thane, Udaipur, Vadodara, Valsad, Vellore, Vijayawada, Visakhapatnam
PINIONS
RACK AND PINIONS
ENGINEERING INSPECTION SERVICES
GUIDEWAY RACKS
DRIVE SYSTEMS